This article is written from the real world point of view.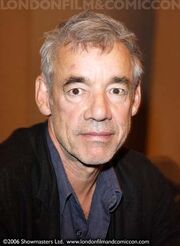 Roger Lloyd Pack (born 8 February 1944; died 15 January 2014) was an English actor who played Billy Stringer in Survivors and was known for his roles in Only Fools and Horses and The Vicar of Dibley. He also appeared in the original Survivors in 1976 as Wally in the episodes Lights of London parts one and two. As such, he had the distinction of being the only actor to appear in both versions of the programme.
External Links
Edit
Ad blocker interference detected!
Wikia is a free-to-use site that makes money from advertising. We have a modified experience for viewers using ad blockers

Wikia is not accessible if you've made further modifications. Remove the custom ad blocker rule(s) and the page will load as expected.