| | | | | | |
| --- | --- | --- | --- | --- | --- |
| 1.04 | "Episode 4" | Iain B. MacDonald | Simon Tyrrell | 9 December 2008 | 5.42 |
Abby travels to Waterhouse, a nearby manor and into a land dispute between an aggressive group of teenage boys and Jimmy Garland, whose family owns the house, which obstructs her attempts to disc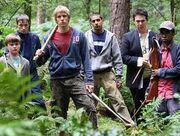 over whether Peter is there or not. Tom, Al, Sarah and Najid find themselves attracted to the comfort and security within Samantha Willis' community but Al falls foul of Samantha and is ejected from it. Tom struggles to prove himself to Samantha, a task complicated by his criminal past. Meanwhile, Anya and Greg confront some unwelcome visitors and learn some useful lessons about group solidarity.
Ad blocker interference detected!
Wikia is a free-to-use site that makes money from advertising. We have a modified experience for viewers using ad blockers

Wikia is not accessible if you've made further modifications. Remove the custom ad blocker rule(s) and the page will load as expected.