| | | | | | |
| --- | --- | --- | --- | --- | --- |
| 1.06 | "Episode 6" | Jamie Payne | Adrian Hodges | 23 December 2008 | 4.65 |
As Samantha Willis expands the scope of her community, threatening the independence of other survivors, Abby and the others are forced to abandon their initial settlement after Tom kills one of Samantha's men. After she meets Bob again, Sarah makes a fateful decision to betray Anya to Samantha, while Najid g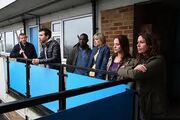 oes missing in the city, and the others look for him. While there, he meets Darren, a feral boy, and a community of other children under the protection of Craig and June, a sinister couple of adults. Greg is shot by Dexter, and Abby is kidnapped by a squad of armed men from "the laboratory". This leaves the series in a cliffhanger situation. After these events, a young boy picks up a bag of belongings marked Peter Grant, and a horserider is shown looking for him.
Ad blocker interference detected!
Wikia is a free-to-use site that makes money from advertising. We have a modified experience for viewers using ad blockers

Wikia is not accessible if you've made further modifications. Remove the custom ad blocker rule(s) and the page will load as expected.