| | | | | | |
| --- | --- | --- | --- | --- | --- |
| 1.02 | "Episode 2" | Andrew Gunn | Adrian Hodges | 25 November 2008 | 5.99 |
When the survivors go out for supplies from the local supermarket, they are confronted by armed thugs who threaten to kill them if they return. When Abby realises that a man with the thugs looks like someone who may know the location of her son, she returns to find him, but is again threatened with death. Meanwhi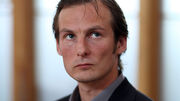 le, Greg finds a warehouse containing a lifetime stock of food, a young woman called Sarah and her injured companion, Bob. Al and Najid go and look for supplies at some other shops in the area, where Al accidentally kills a surviving shopkeeper, before they return to the house with some chickens.
Ad blocker interference detected!
Wikia is a free-to-use site that makes money from advertising. We have a modified experience for viewers using ad blockers

Wikia is not accessible if you've made further modifications. Remove the custom ad blocker rule(s) and the page will load as expected.