| # | Title | Director | Writer | Original airdate | Ratings (millions) |
| --- | --- | --- | --- | --- | --- |
| 1.01 | "Episode 4" | David Evans | Jimmy Gardner | 9 February 2010 | 6.97 |
Tom and Greg are enslaved alongside Kevin and dozens of others in Mr Smithson's coal mine. Meanwhile, the Family are desperately hunting for them and follow Billy, their only lead, to a roadside motel wh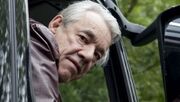 ere he is meeting his girlfriend, Sally. When questioned, Billy feigns ignorance and exits under the pretence of asking around while on his trading route, leaving the Family with Sally. Sally breaks down, not wanting to sell such nice people to a lifetime of misery, and tells them of the mine.
In the mine, an accident leaves Kevin badly injured. Greg formulates an escape plan by convincing Smithson that he is a geologist and that he has discovered a gas leak in the mine. Tom also tries to escape. However, the Family are converging on Smithson's with their own rescue plans, leading to a dangerous game of cat and mouse. Tom is left to make an important decision. At the end there's an appearence from Peter, who finds Billy.
Ad blocker interference detected!
Wikia is a free-to-use site that makes money from advertising. We have a modified experience for viewers using ad blockers

Wikia is not accessible if you've made further modifications. Remove the custom ad blocker rule(s) and the page will load as expected.